okay so yesterday i was going to post but i came home to a power outage!!! there were crazy storms and hail pellets on and off all day yesterday, and in the end the storm won over the power lines. oh well, we lit candles and i read blogs from my blackberry and it was not all that bad. but now i have to catch up on quite a few things, i hope i remember it all!
first off, eats, cause that is what it is all about, right?
so yesterday i was planning to eat clean but my social events self control got the best of me. actually i shouldn't say that, i could have easily eaten clean all day no problem, but i realized that this was the last time i would actually be able to eat solid food for awhile since the tonsils are coming out tomorrow.. so i indulged. so sue me :)
sunday morning i had
meal 1: coffee + splash of vanilla extract + UVAB & protein muffin @ 11 AM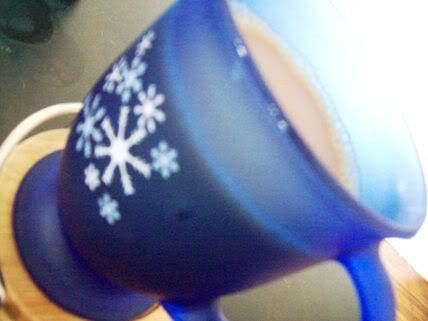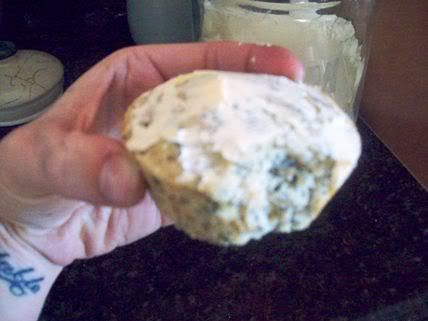 i loved the splash of extract, it made the coffee super delish. i had 3 cups. i like coffee sundays.
then ten of us decided to go to brunch. whenever my fabulous friend kristen is in town i get to see people i usually wouldn't see. it is a shame that it takes her coming to town to see them, but i will take what i can get! we went to blue plate diner and it was about a 45 minute wait for a table of ten. so while we waited, i had an iced americano with cream and basked in the sunshine. yes, at this point it was still sunny. didn't photograph the libation.
after a long wait, we all got seated and i already knew what i wanted. something i've been craving since before lent (i gave up bread for lent) and so it was settled:
meal 2: eggs benedict sans hollandaise + avocado, hash browns & more coffee @ 2:00 PM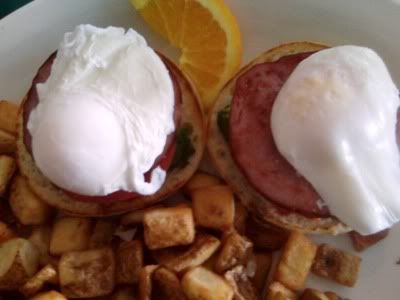 forgive me, it is a blackberry photo. i mean i could have busted out the digital at my table of ten, but i opted not to. i also had a couple pieces of marshall's fruit: cantaloupe, strawberries & honeydew. i didn't finish my meal, but the part i ate was fantastic :)
after brunch there was a whole bunch of hanging out, marshall and i went to his grandpa's where he picked up a free truck. his gpa got a new one and gave him his old one. it will be super sweet for camping this summer! plus i want to trade my 4runner in for a subaru so that gives me even more reason to now that we have access to a truck at all times.
i had a snack of an apple + peanut butter but i didn't take a photo, i really slacked ass on photography today.
my friend kristen's mom is a really good cook and i love to see her, so when kristen invited us to dinner at her mom's i had to say yes yes yes! even though i knew i would probably be eating a couple unapproved items, but usually her cooking is very healthy so i was not too concerned.
we got there and it was taco night! her mom is such a sweetie.. she had chicken, beef, vegetarian meat, hard shells, soft shells, all sorts of options. i decided on
meal 3: soft shell taco with chicken + lettuce + black beans + tomatoes + light sour cream + sprinkle of cheese & a few lime chips
again with the blackberry photos, sorry. i think i did pretty well, considering i could have eaten like four of these things. the chicken was sooo good, whatever she marinated it in was fantastic.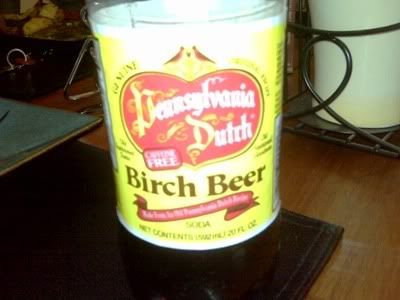 i also had a sip of marshall's birch beer which is a lot like root beer, it was yummy but very sugary sweet. not up my alley. i stuck to good old water.
of course, what is dinner at a friend's mom's house without dessert? and of course the dessert had to be milkshakes since she just got bobby flay's book on burgers and shakes. well, you don't have to twist my arm to feed me ice cream.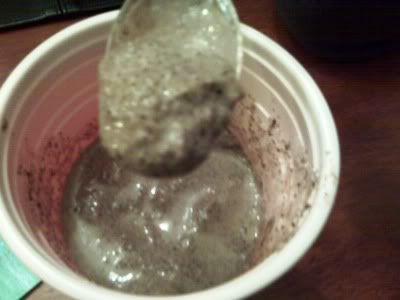 i had her make me a small shake with oreo. yuu-ummm. thanks eileen!
well that put me over the edge, i was super full. super super super full. i think my free day fared well though, the only unapproved items i had were:
white english muffin

a few hash browns (probably cooked in oil, that is why i say unapproved)

white tortilla

sip of birch beer


oreo shake
i don't count the sour cream or cheese as unapproved because i use those in moderation sometimes even on non free days.
the worst part about the power going out was i could not make the breakfast cookie i had been hoping for! i couldn't open and close the fridge because who knows when the power would be back on.. so i didn't get to make one.. and i will have to wait until i am healthy again and recovered from my tonsillectomy because i can't eat breakfast tomorrow! SAD! don't worry plethora of breakfast cookie recipes, i will try you out just yet!
okay, moving on to monday!!
i woke up this morning with major DOMS! in my chest, my abs, my obliques, my back. oh love love the sweet DOMS :)
i tried a little something different when i made my
meal 1: protein oatmeal & coffee @ 8:00 AM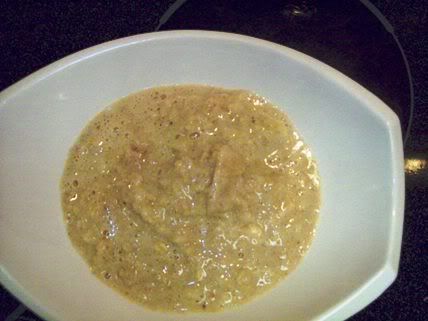 first i cooked 1/3 cup oats + 1/3 cup water in the microwave for 3 minutes on power 4. meanwhile, i mixed my vanilla protein powder with 1/3 cup of UVAB so the powder was dissolved in the milk. i squirt some agave on the oats and sprinkled cinnamon on them and then poured the UVAB/protein powder mixture over the oats and sprinkled on some fiber sure. then i stirred it all together and it turned out EPIC! creamy and sweet and cinnamony and perfectly delicious! stoked on this new method. i love messing around with new ways to mix the protein powder in the oats.
sooooooooo work has been turbo busy, since this is the only day i will be in the office this week, under the knife tomorrow :( i got around to eating lunch
meal 2: turkey wrap & veggies @ 12:00 noon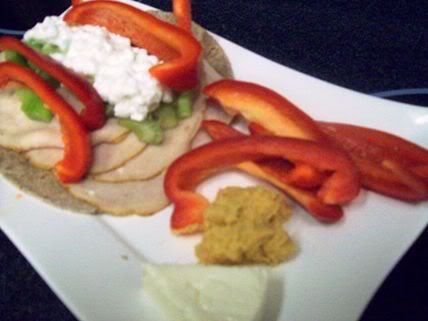 the wrap included:
fat blaster sprouted tortilla
red pepper hummus
sprouts
4 oz sliced smoked turkey
celery
red pepper
low fat cottage cheese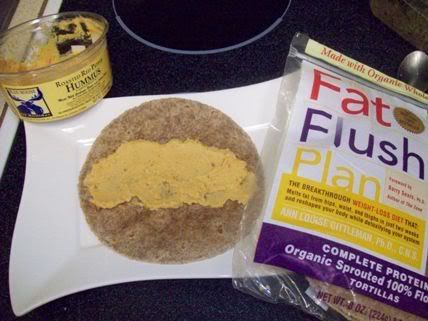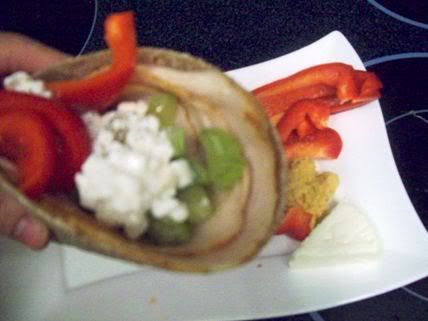 i also at my extra red pepper on the side with a glob of hummus and a wedge of LCL swiss. yum!!
insert a whoooole bunch of workin' here!
meal 3: greek yogurt amazingness @ 4:00 PM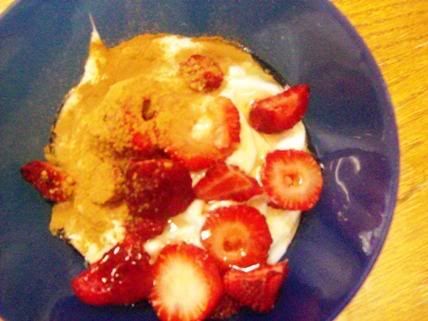 um delish!
8 oz fat free voskos
5 strawberries
amber agave
a whole plethora of cinnamon. like, a lot of cinnamon.
1/4 cup activa cereal (added after mixing as an afterthought for crunch)
fiber sure
i could die happy, it was so good. and i just might die tomorrow in surgery so that works out well for me. oh and i had a string cheese right before i ate my greek yogurty bowl of goodness.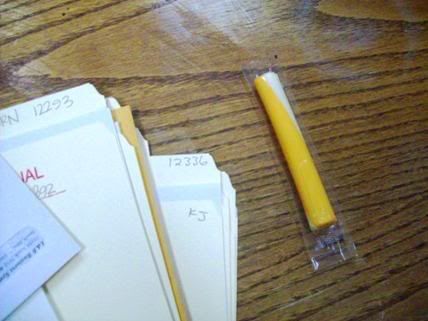 well i have to get back to work, i am already here 2 hours past when i should have left, and i will probably be here for another hour or so.. that is what i get for taking the rest of the week off. i am excited for my workout after work and dinner, which is going to include a super yummy pesto that is one of danica's original recipes!
so i need to go over how my challenges are going! i am participating in two:
bobbi's the simple life challenge:
6 points from may 1

may 2 had 2 points from meals.. and then

1 more point for meal prepared at home saturday


1 point for using the hand dryer at the gym instead of a towel (i reached for a towel even, and stopped myself!)

1 point for sucking it up and buying new resuable bags at whole food's when i didn't have mine with me

1 point for cramming all my target purchases into my purse (food items, DVDs, clothes, it was a lot of stuff) when i didnt have a reusable bag. i think the cashier thought i was crazy.

1 point for bringing a hand towel to work to dry my hands instead of using paper towels every time (which is a lot, since i use the bathroom often, i mean i drink a gallon of h2o a day!)

1 point for using clipped coupons at the store

1 point for switching to online bill payment for my car instead of using paper and having to drive to the bank and pay it in person

1 point for meal prepared at home sunday

2 points for two meals prepared at home/work today

1 point for saving water and just washing my bangs & face in the sink today rather than showering (no worries, my body was clean, the shower would have been for relaxation purposes only so i opted against it just to get a point haha!)

1 point for waiting for my greek yogurt to go on sale and then buying it in bulk, i saved over $5 holler!

minus 5 points for eating out yesterday :(
that brings my grand total to fifteen points! i also did a few things that will allow me to rack up more points soon, i bought the jillian michaels 30 day shred at target and i am super excited to use it. the reason i bought it was so i could save on gas/driving to and from the gym and opt for a workout at home sometimes.. and i heard this was a good DVD. so i will count a point when i actually do the workout at home :) i also bought light bulbs to switch out at my house and make my lights more energy efficient, but i have not changed them yet so i will count a point when i do that. i am thinking of more ways to be thrifty & green and i love it! it is fun to find ways to rack up points. any other bright ideas??
the other challenge i am doing is
katie's new foods challenge:
i have purchased

kale

as my first new food to try
i have also purchased

tofu shirataki noodles

to try
i have a few things on my list that i want to try.. but i am worried about it because of my tonsillectomy!
does anyone have any suggestions for new foods i can try while only able to eat soft stuff for the next couple weeks? i am going to make some green monsters with the kale, but any other ideas would be radtastic!
in other news~~
i am getting my tonsils out tomorrow, *and i am scared shitless* …if you haven't heard. i am currently brainstorming foods/recipes to try for the aftermath. if you have any soft foods or smoothies or protein shakes that you think are delish, PLEASE SHARE!!
heather is having a wild bar giveaway! she says these things taste like girl scout thin mints, sign me up!!!
another giveaway! gena the fitnessista is giving away a raw dessert "cook"book by ani phyo! and she is throwing in some raw macaroons. i have never tried these but see them everywhere on the blogs, i gotta whip up a batch! she announces the winner tomorrow.
today is

NATIONAL ORANGE JUICE DAY

! (and national home brew day, and national candied orange peel day) CeLeBrAtE!
cinco de mayo is one of my

favorite holidays

and i will be missing any type of celebration tomorrow due to my surgery. just had to whine a bit. cry, sigh!
dudes check out the

size of this chip

! it is one of those salt & pepper kettle chips, no i didn't eat it, but man it is HUGE! i bet i could have thrown that bad boy on ebay!
i have way too much work to ramble on any more, but i will be back tonight :)