hola!  happy saturday!  it is a freaking downpour outside!  i have already had quite the number of events today…
first, i let the kids out this morning and they came back inside and jumped all over me which=muddy paw prints galore!
then i drove from the boyfriend's (which is 36 miles from my place, ugh) to my house and there was mass amounts of standing water on the freeway, some minivan with those stupid stick figure family member stickers on the back window cuts me off and i swerve into the other lane which could have potentially caused an eight car pileup but luckily nobody was right next to me.  that woke me up.. good thing too cause i hadn't had any coffee.
then i dropped randy (boyfriend's basset) off at my house, grabbed penelope's leash and raced to class (dog class, for those of you just tuning in.. penelope ((my dog)) is in intermediate school) and during class, martin the boxer peed all over my left foot!! what is WITH my feet these days?!
whew now i am safe and sound at home, and uploading my eeeeeats.
yesterday while visiting my mom, she expressed how surprised she is at the amount of people out there who photograph everything they eat. and honestly, before i stumbled upon this blogland, i had no idea about any of it! and i LOVE it!  i am officially addicted to reading/writing foodie blogs.  and it is like my sister said, that is a pretty great thing to be addicted to!  i mean, at least it's not crack, right?
okay now that i have rambled long enough for my photos to upload, i will get on with the show and post my utter and complete randomness that went into my mouth the past 24 hours..
around 3:30 was when i was to be leaving work, but i was also hungry and knew i would be going to my mom's where she would have bare cupboards since she just got back in town and hadn't been grocery shopping yet.. so i threw together something at work before i left for the weekend…
meal 3: greek yogurt + other stuff @ 4 PM

this was delish! to be specific, it included:
8 oz voskos fat free greek yogurt
1/2 scoop chocolate triple blend protein powder
1/8 cup kashi go lean
1/8 cup trader joes 9 grain
3 strawberries
splash of 8th continent soy milk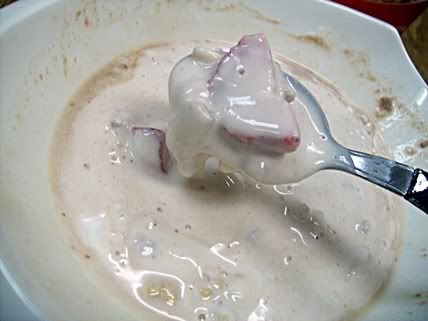 also had a handful of almonds & dried blueberries


so i went to my mom's after work with good intentions to work out.  um, well, ya see.. there is something about going to my mom's house and seeing her after she's been out of town for a week that makes me just want to sit and chat rather than pump some iron. and to top it of my SIL and cute 3 year old niece came over to visit.. so it turned into a 3 hour long visit while i munched on randomness..
meal 4: bulleted list of stuff @ 6 PM – 8 PM
3 trader joe's alphabet cinnamon grahams (they were my niece's)
a few handfuls of trader joe's high fiber cereal
about 12 trader joe's whole wheat pita chips + turkey pepperoni + spinach feta hummus
a handful of almonds
3 cashews
lots of water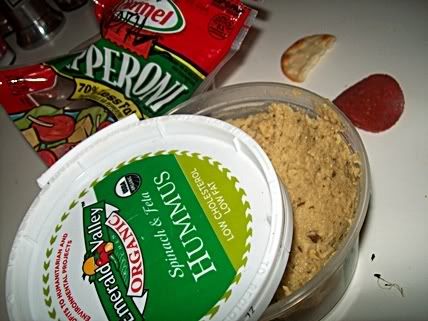 okay, so i didnt get photos of it all but you get the idea. grazing at its best.  and as you can probably tell from the list.. LOTS of trader joe's items!  whenever one of our family members goes to a state with a TJs they take our order.. this is what i got:
box of high fiber cereal
polenta (so i can make a yum recipe i got from danica)
no pudge brownie mix (that my tracker friend bre always has.. excited to try on a free day)
turkey meatballs YUM

edamame hummus

she left this at my sister's back in cali unfortunately!

pumpkin butter

she couldn't find this, SHOOT!
so i am sad to not try the hummus, maybe next time, and my sister is going to keep an eye out for the pumpkin butter for me (right ree?)
sooo yeah needless to say i didn't work out. i could make excuses until my fingers fell off but i wont.  i went to marshalls after that and around ten i was hungry.  so we went to the store and got stuff to make
meal 5: ham, egg & cheese sandwich @ 10:30 PM
this photo is weak.  it does not do the sandwich justice. i snapped it real quick and he didn't have any plates so i used a paper towel.. i mean five boys live there, they don't exactly have clean dishes haha. but ths included:
2 slices whole wheat 40 calorie bread (oroweat light brand)
3 slices vine ripe tomato
1 slice 98% fat free thick ham
1 egg+1 egg white
2 small slices sharp cheddar
it hit the spot!  after we ate we watched baby mama, i had never seen it but wanted to because i love both tina fey and amy poehler.  it was a cute/funny show. then i nodded off to sleep around 1.  it is rare for me to stay awake for a whole movie.. especially when i am super tired, so i was shocked.
oh and i ended the day with 136 ounces of water :)
i woke up this morning feeling skinny.  do you ever have those mornings? where you wake up and you just feel skinnier than usual?  i love that feeling!
i was in somewhat of a hurry to get to puppy class so i had the same thing for breakfast as i had last night.. i mean marshall does not have many options at his house. all his roomies are vegan so there is plenty of healthy foods, but not a lot of things with protein. so eggs and ham it was again!
meal 1: ham, egg & cheese sandwich @ 10:30 AM
another half assed photo, sorry folks. i did snap a shot of the gooey melty cheesey inside after a few bites, but i had to eat it on the go so it wasn't that lovely of a breakfast.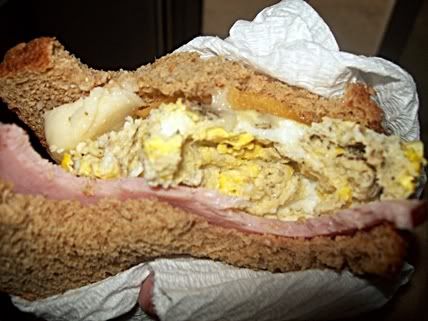 i had the high fiber cereal in my car still so i had a handful of that before darting into class :)

after class i made an americano.  i love my espresso machine, i just never have the time to use it in the morning. i am going to try to remember to use it more!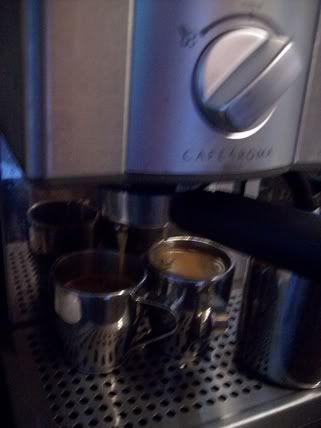 two oclock came around and i was hungry again.. so i went to the kitchen with no idea what i wanted, this is what i came back with..
meal 2: southwest salad @ 2 PM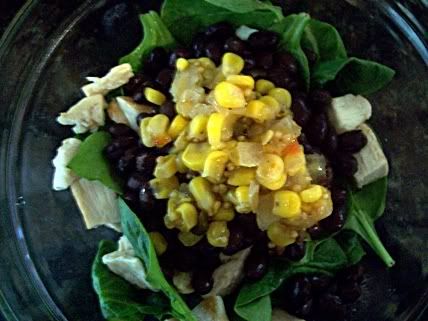 yummmm!  i am a culinary genius!  haha ok maybe not, but this salad was a culinary combination that really tantalized my taste buds.  it included:
bed of spinach
3 oz diced grilled chicken
1/2 cup black beans
1/4 cup trader joe's corn chile salsa
1/3 of an avocado, mushed up into guac
1/4 cup low fat cottage cheese.. for dressing AND more protein
heaping spoonful of TJs peach salsa

have you guys tried this stuff?  i forgot i had some in my cupboard and when i was poking around i found it in the midst of the picatta and masala simmer sauces.. yummo, i LOVE this salsa!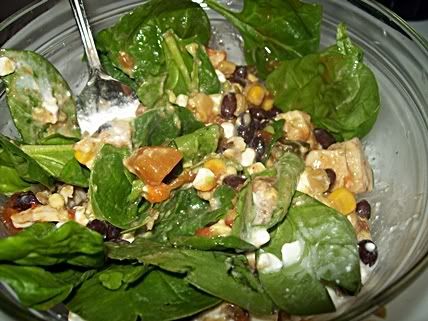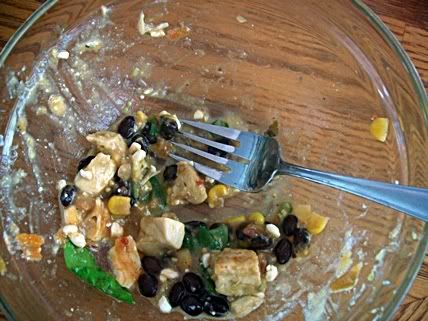 the salad hit the spot since i had been craving some mexican, but not the fat and calories that come with it. the chicken and cottage cheese were a good protein base, plus i got all my carbs from beans & corn which is a plus.  and the avocado added the perfect healthy fat.  definitely one to make again.. i love when i can top salads with salsa instead of dressing!
just barely i was feeling like a treat, and because i am not taking a free day today like my usual saturdays,  i opted against the ice cream and went for a healthy sweet snack instead..
snack: braeburn apple + earth balance w/ flax natural PB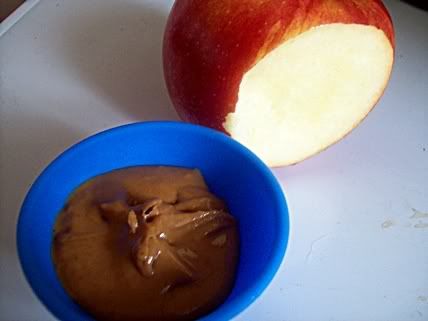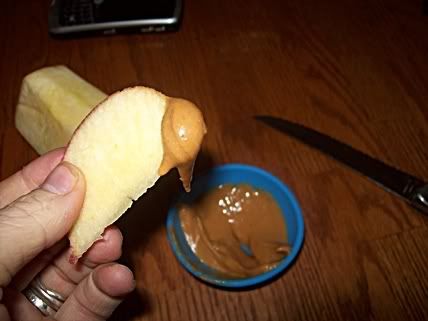 yep, just what i needed to keep me content.  and now i am typing all of this.. and the rain is letting up a bit.. i think i will venture out to the gym and target soon.  i have a few things on my list that i need to get. while i really want to go grocery shopping at this new natural foods market i saw.. i know better, because i will not be able to eat any of my purchases after the big operation on tuesday. le sigh!
before i forget, i want to go over my current standing in the simple life challenge.
total of six points for friday, may 1: 3 points for 3 meals prepared at home/work/marshall's, 1 point for coffee brewin' at the casa, 1 point for swapping ziplocks out for tupperware, 1 point for taking a set of silverware to work.  hooray for reusing!


today i was seriously

bummed

because i planned to walk to puppy school with penelope and rack up a point there, but since it was an all out downpour, we took the car. sigh, cry. hoping for better weather next weekend.

2 points for 2 meals prepared at home so far today (breakfast at marshall's, lunch here at home)

i have big plans for scoring some more points today.. stay tuned to see what i've got in store!

running total.. drumrollll.. 8 points!

in other news~~
today is national truffles day.  now you can celebrate how you wish, because in my mind a truffle can mean two things: a super delicious mushroom or an equally super delicious chocolate treat.  take your pick!
so so so many of you gave me breakfast cookie recipes and i want to say thanks! i am excited to try them out and find something that works for my taste buds. you guys rock my face off.
i don't know if any of you use fat burner supplements, i don't personally ever since they took thermodynamx off the market.. but the ever popular hydroxycut has been recalled due to issues it can give your liver! eek! click here to read about it, and stop taking it right away.
i am taking on

another fun challenge!

katie over at chocolate covered katie/vegan (not sure which she goes by?) is hosting a challenge where you have to try a new food every week!  this is a great way to open up my culinary skillllzzz to new things! join in the fun and click here for the challenge rules!
well i have said more than enough :) i will go get a move on my day.. now that it is more than half over.  a friend is in town from AZ tonight so i am excited to see her! i might even get crazy and have some froyo at spoon me.. hmmm…
check ya later alligators!