happy friday internet land! stoked!
well i thought it would be a good idea to stay awake until 1 AM and then wake up at 7 AM and be late for work. i mean, it seemed like a good idea at the time but as i nod off to sleep at my desk i realize this was probably a lame choice.
so last night around midnight i was still doing my laundry and had another horrible idea, i decided to eat. why? no reason. maybe for the sweet tooth in me? i don't know, i shouldn't have. this is what it was..
meal 6: protein powder/cereal/fruit/milk concoction @ 12 AM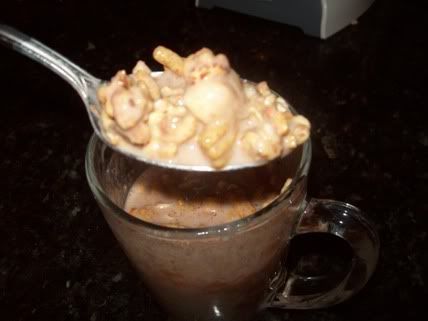 so this included:
1/2 scoop chocolate protein powder
1/8 cup kashi go lean
1/8 cup trader joes 9 grain
1/2 banana
1/2 cup UVAB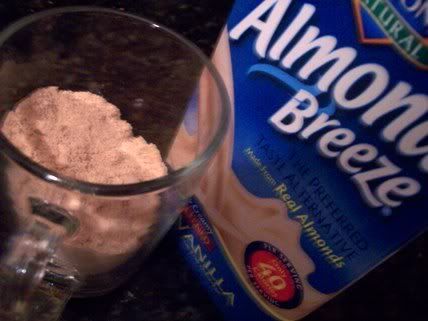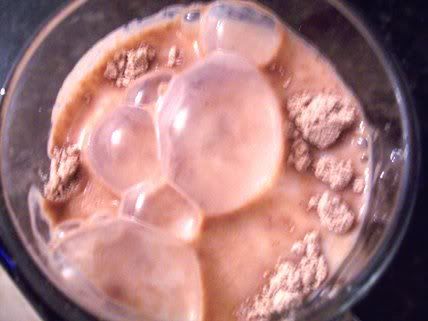 and it was delicious, probably carb heavy, and totally unnecessary. :) i did manage to guzzle a total of 152 ounces of water yesterday which is awesome!
i also whipped up a breakfast cookie to stick in the fridge overnight. i looked and looked for the link to the girl's page where i got this recipe from, but i couldn't find it again, so i am sorry i am not giving credit where credit is due.
it included:
1/3 cup oats
1 scoop vanilla whey protein powder
2 T unsweetened applesauce
2 T pure pumpkin
splash of vanilla extract
splash of unsweetened almond milk
few shakes of nutmeg
one shake of splenda
lots of cinnamonnnnn
okay so i think i used too much milk.. and there was not enough of a binding agent in the cookie.. it needed some peanut butter or some syrup or i dont know what.. but this morning i was not as impressed as everyone else seems to be with their breakfast cookies.
meal 1: breakfast cookie + half a banana, coffee, 1 protein muffin @ 7:30 AM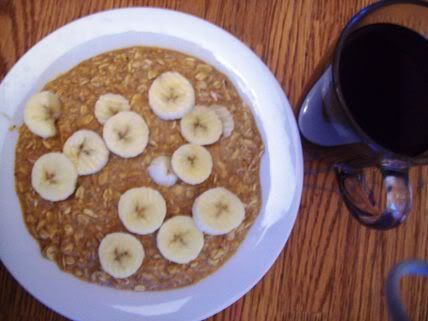 so yeah i ate most of the cookie. but it was still really moist and gooey and had too much nutmeg and not enough oats and all in all it tasted fine, just did not have the consistency i was after..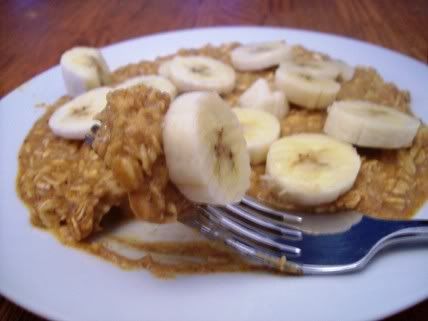 so i tossed about a quarter of it and went for a muffin.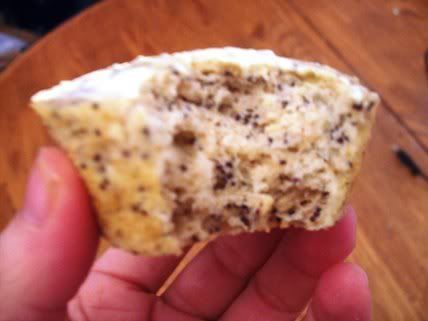 i have found a few other breakfast cookie recipes online today and i am going to try them. there has got to be something to it or everyone would not rave about them, right? so if you have a good breakfast cookie recipe, do share!
sooo that tided me over for a long time.. i did not eat again until
meal 2: chicken wrap & steamed veggies @ 12:30 PM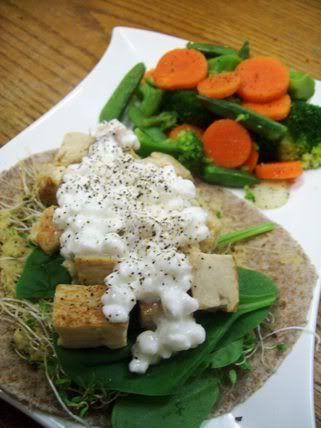 yes you read right, 5 hours later. haha i guess i should have skipped that muffin, i was not hungry at all until noon. but when my tummy started rumbling i made this wrap:

1 fat blaster spelt tortilla
2 T spinach feta hummus
sprouts
spinach
diced grilled chicken
1/4 c lf cottage cheese
black pepper
served with a side of steamfresh veggies. yum :) it was a good lunch!
so that is as far as i have made it today! i am off of work in about an hour and a half and i need to somehow muster up the motivation to get to my upper body work out! i think i will go to my mom's house to work out because she has been in cali and i miss her a lot and plus she got me some TJ's goodies :) no that is not the only reason i want to see her!
OH! today is day one of the simple life challenge! lets see how my points are adding up so far…
1 point for breakfast at home

1 point for brewing my own coffee at home (a one time point)

1 point for swapping all my ziplock baggies for tupperware to take my food to work today (also a one time point)

1 point for taking washable/reusable silverware to work today so i won't be using plastic anymore (also a one time point)

1 point for a homemade lunch at work
that brings my total so far to five points for the day! it won't usually be so high because of all the one-time things. but i am thinking up some ways i can simplify things even further, i am excited to go out of my comfort zone and go the extra mile when i can.
if you are interested in joining in the fun, pop over to n her shoes and read all about it!
in other news~~
ONE MONTH FROM TODAY

is when i turn 26.  sigh, cry!  no more parents insurance plan, no more claiming i am in my "early twenties", and WOW i am starting a whole new quarter century of my life!  it is weird to think that 25 years is a quarter of a century.  kind of a trip.

it has officially been four solid months since i have had a single piece of candy.  marshall and i had a new years resolution of

giving all candy up

and i am proud to say both of us have made it 1/3 of the way through the year without cheating!  now sweets is a whole different story, but i am pretty proud that i have not had one single bit of candy, especially since i have a candy jar sitting on my desk and it gives me death stares daily.  it is all about self control.
may has a whole PLETHORA of birthdays!  i just turned my desk calendar and wrote on it.. i wrote twelve birthdays on there!  and i am sure i am forgetting people!  one week, there is a birthday that i know of monday, tuesday, wednesday, thursday AND friday! haha real important news, eh?
well, i am going straight to workout after work, and then straight to marshall's.. which means no more blogging until tomorrow.  i hope you all have an amazing friday night!  yay for friday, payday, and puppy class tomorrow!!!