well it is super late, at least for me, since i have to be at work at 7:30.. but i am bound and determined to get my laundry done tonight.  well the washing/drying part at least. the folding part is a whole other ball game that i am not willing to play.  not tonight at least.  i would rather scrub floors with a toothbrush than fold laundry.. i seriously hate it.  i always have mounds of clean clothes all over my room.  and since my room is the size of a gerbil cage, this is not very practical.  i guess my goal for the weekend will be to get my floor spotless.. and it will stay that way for a good 10 days before it turns into the jungle of clean clothes galore again.
anyway, enough rambling! how about some phood fotos?
after the gym i had 3 missed calls, all from marshall.  so i call him back, wondering what could be so important..? i mean he knew i was at the gym.  he answers with a "HAAARRRRUUUMMMPPPH!"  we say that when we are upset. silly.  i was like huh?
marsh: "I HAD TO GO DUMPSTER DIVING TODAY!"
me: "scuse me? you had to what?"
marsh: "dumpster diving. for MY COOKIES.  that SOMEONE threw away! jerk!"
me: "hahahah.. i will give you $3. it is well worth the relief i got from getting them out of my face!"
if you havent yet read this post..do, and this story will make a lot more sense :)
so yeah, he went in after his cookies. and he ate the rest of them. probably 6 cookies x 240 calories each = 1440 calories.. plus milk. i hate that kid's metabolism with all my heart and soul.
and then he tells me he is starving and wonders what is for dinner.  ha ok.. whatever..
meal 4: tuna salad in a pita @ 7:30 PM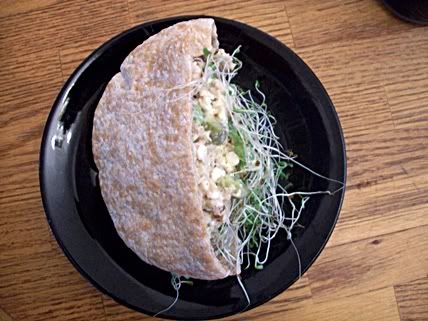 this was deeeelish.  and notice, my carb was not fruit for once today :)
i mixed:
albacore tuna (100 cal, 20g protein)
3 T low fat cottage cheese
1 T fat free mayo
diced celery
diced pickles
1 T dijon mustard
and stuffed it in a whole grain pita.. love the stats on these things..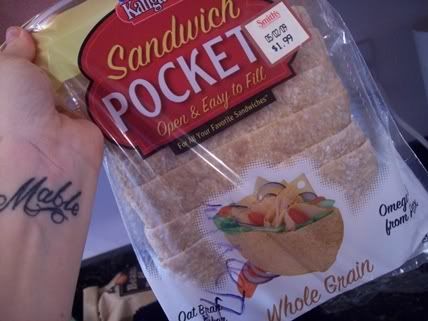 the pita was lined with a laughing cow light wedge, and then i topped it all off with sprouts.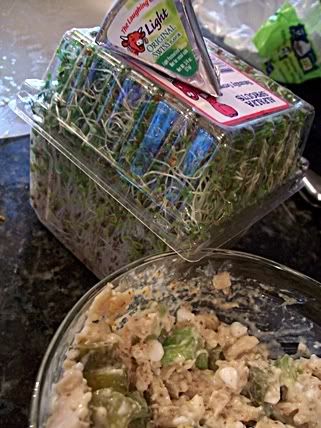 tasty.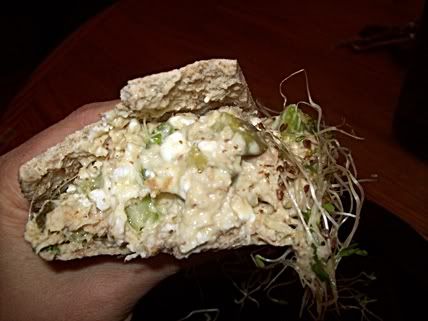 we watched the office and then marshall bailed and took the kids (the dogs) with him.
what do i do when i am home alone, no boyfriend, no roomies, no dogs?
i clean and i bake. so i did both. laundry, rearrange the living room, go through all the mail, do all the dishes, organize the tupperware cupboard (ugh), and i baked some lemon poppyseed protein muffins using this recipe in the lemon poppyseed version.  of course, i had to try my creation :)
meal 5: 2 lemon poppyseed protein muffins topped with smart balance & 1 calcium chew @ 10:30 PM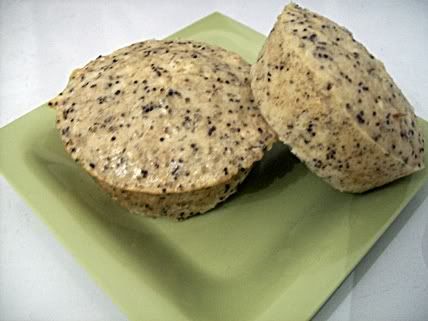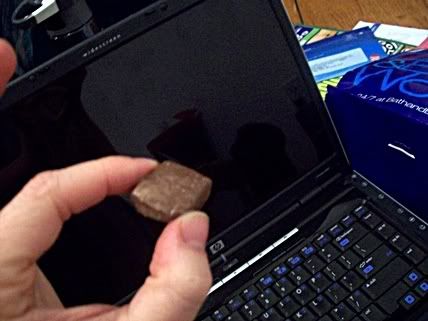 okay so here is my review. i cooked these for only 15 minutes which was perfect, they were not dry like my first batch in the spice flavor.  but i enjoy the spice flavor more.  the lemon was good, but without the sugary sweetness of, uh, sugar.. the muffins had a weird tartness to them.  next time i do poppyseed i am going to try almond poppyseed instead, adding slivered almonds and some almond extract.  i think i will like that more.  but these were still very satisfying. i finally got some smart balance so i dont have to use the ICBINB spray anymore. whew!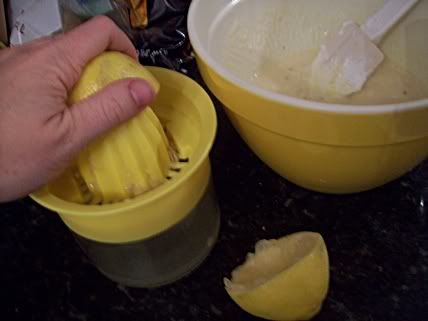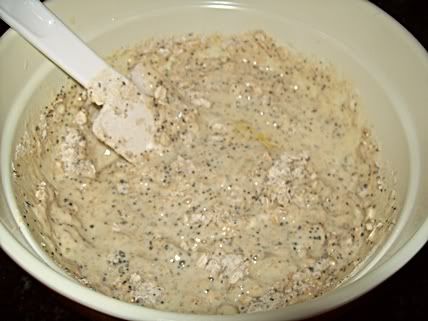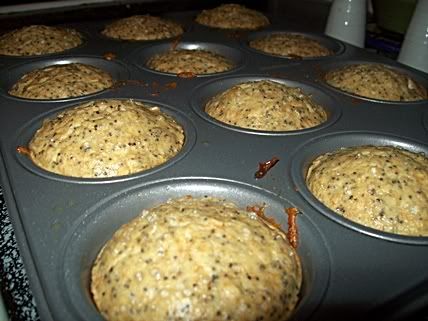 so now i am going to wait for my last load to wash and then throw it in the dryer.. and then hit the sack.  but beforehand i think i will whip up a breakfast cookie! i got a recipe off a gal's blog and i am stoked to try it! that will be tomorrow..
tomorrow also starts the first day of the simple life challenge! read my post from earlier today to see what that is all about :)
buenas noches!