i could barely keep my eyes open all day at work. i got a good seven hours of sleep last night, so i am not quite sure what my deal has been all day. i had planned to get off work, go home and change for the gym and then go workout. detour: bed.
first let's go over the rest of the eats at work.. well.. the one meal, i suppose.
meal 2: whole foods salad bar salad + cottage cheese + turkey pepperoni + balsamic vinegar @ 12:30 PM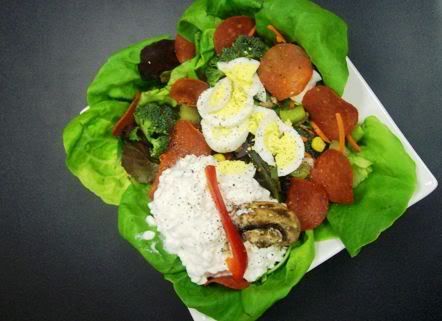 this salad was nothing short of amazing. i laid down a bed of butter (aka bibb) lettuce, piled on some of my salad bar selections from my trip to whole foods yesterday: spinach, lettuce, sunflower seeds, corn, peppers, cukes, onions, broccoli & hard boiled egg. then i threw some turkey pepperoni into the mix for added protein as well as some low fat cottage cheese.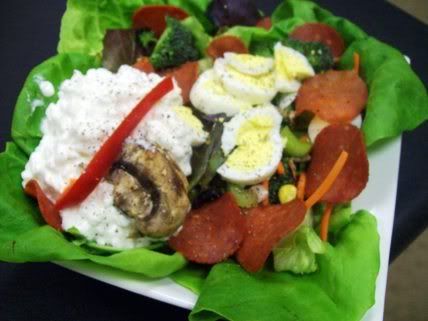 i drizzled some balsamic vinegar on top for the dressing and added lots of black pepper. i need to get a pepper grinder for my office, f'reals.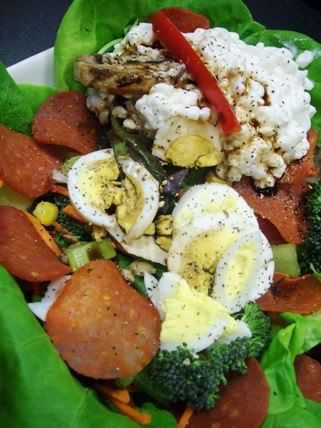 by the time lunch was over i was only at 1.5 contigos.. when i am usually at about 3. not sure why i wasnt able to chug the h2o like a champ? by the time i left the office i had only downed 3 contigos when i am usually at at least five. and not only that, i have felt ultra full all day long. maybe it was the added carbs with breakfast (strawberries, plus i used 1/2 cup oats rather than my usual 1/3) or maybe i have just reached max capacity? no idea.
so i am sleepy, i am full, and i am sick of work.. and so when the clock hit quitting time i was more than relieved. i went home and…
cheated: (part of a) pumpkin chocolate chip cookie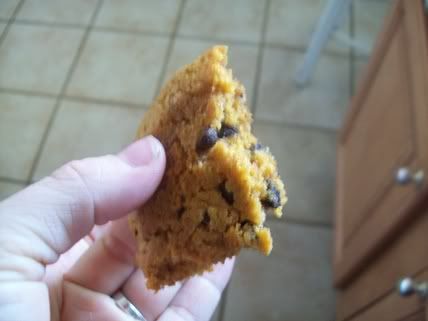 scuse me janetha? WTF were you doing?  not sure.. but wanna know what happened next?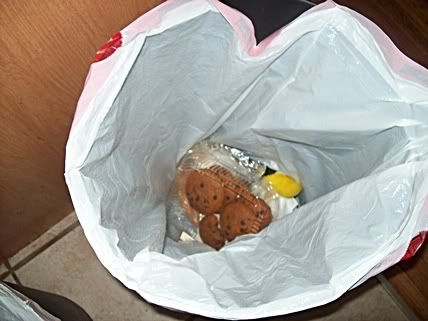 see ya later cookies.. sorry marshall, they were only $3 and they cost me a lot more grief.  before tossing them i checked.  1 cookie=240 cals, THIRTY SIX carbs, 10g fat, 2g protein, 122g guilt. good thing i only had a small piece.
i ate a calcium chew and hit the sack.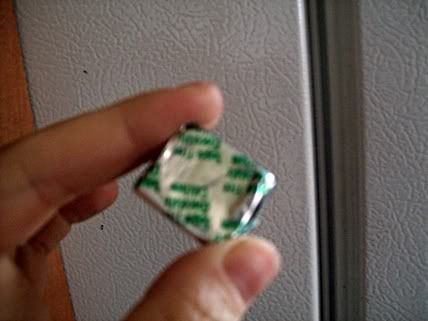 i took a nap.. if you want to call it that.. i was kind of sleeping but our walls are paper thin so i heard music blasting during most of my "nap".. but it did help me out a bit. when i rolled out of bed due to the fact that i couldn't hold my pee any longer, i still had a craving for pumpkin cookies! ahhhh oh no!  so i decided to whip up
meal 3: pumpkin protein shake & a bowl of kashi go lean & a babybel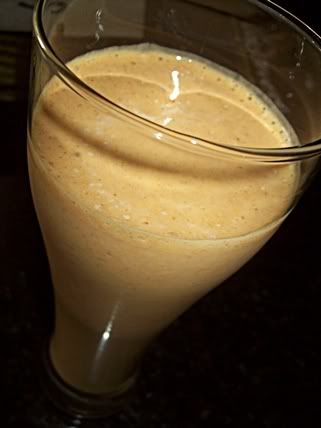 you can check out the recipe for this yummy shake i made up by clicking here. it did satisfy my pumpkin cravings, just as i expected, but i was still a little hungry so i had a bowl of kashi with UVAB and a babybel (once again, food marshall left at my house!)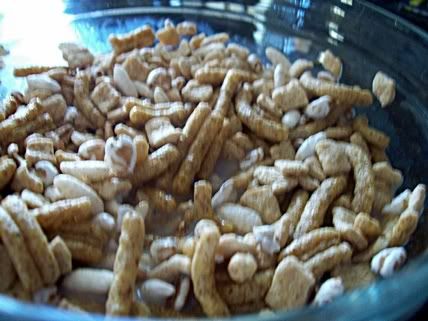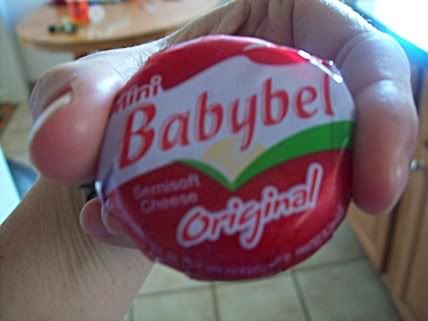 now it is almost eight at night, i feel like garbage.. headachey, sleepy, my feet hurt, could i complain any more??? i missed my LBWO :( but i am going to double up the workouts tomorrow.  it will be better anyway, the more time i give old lefty to heal before working out the better. and yes, a whole week later, it still hurts. ugh.
i don't know if i will eat again today.  i only have had 4 contigos = 96 oz h2o. and only 3 meals plus the cheat.  and im full.  i dont get my deal today.  hope tomorrow is better…
in other news~
my mom is in cali right now and she is picking me up some goods from trader joe's! thanks mom!
if you want to know what 200 calories looks like take a look at this website. it is pretty eye opening when you look at a portion of each food. the thumbnails click open and all the food is displayed on the same size serving dish. hummm.. innnteresting, no?
today is national shrimp scampi day! shrimp is packed with protein and is super delicious, pair it with some whole wheat noodles and

celebraaate!

careful, go easy on the butterry white wine sauce ;)
if you are in the market for some mayo, why not check out smart balance's omega plus mayo? this stuff only has 50 calories per serving and also pack 500mg of omega 3's per TB. sweeet!
i am really craving some vanilla bean ice cream.