so today marks one week since i started this little spot of mine in blogland.  so far i am loving it.  it is a bit tedious at times, all the photo taking, uploading, cropping, inserting.. blah blah blah.. but the finished product is something to smile about, so it is all worth it!
this morning i was not feeling great.. it was one of those mornings where i had an outfit picked out to wear to work but then it ended up being too cold for that, gotta love utah and our crazy weather changes.  so then i proceeded to try on eight different things and nothing was working and i was throwing clothes all over the place and now my room looks like the latest tornado victim.  great.
it is strange, sitting in my messy room rubs me the wrong way and puts me in a bad mood.. yet i cannot seem to keep a clean room for longer than a week.  sure wish i could figure out the way i work!
anyway, moving onto food and stuff..
started the morning with..
meal 1: protein oatmeal & coffee @ 8:30 AM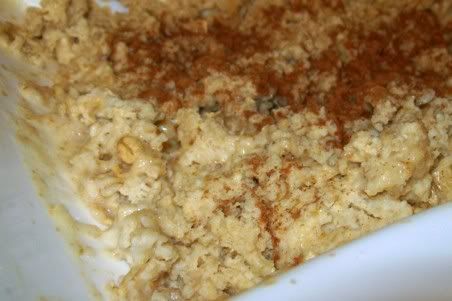 are you surprised?  ha thought not!  but i did make the oatmeal with the EAS triple protein blended powder this time since i caved and picked up a bag at costco.  no buyers remorse here, that protein powder just tastes waaay better in the oatmeal than the 100% whey powder does.  i also added some of the cold pressed ground flax that i picked up at costco.  weeee, healthy fat + fiber.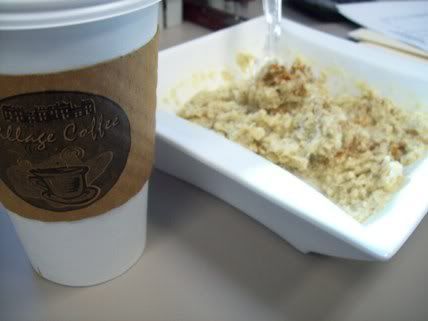 so, this monday went as they always do.. turbo busy all day.  except i had a couple surprise meetings i had to go to and somehow lost track of time and did not eat for quite awhile..
meal 2: greek yogurt + bear naked granola @ 1:00 PM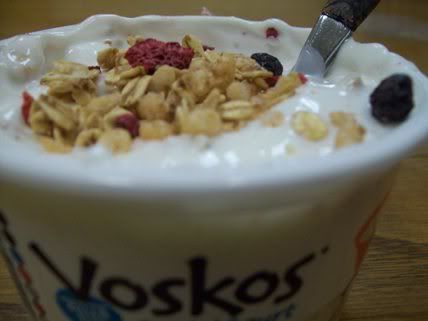 yeah so meal 2 was not only suuuper late, but it was also not what i had originally planned to eat.  but at 12:55 as i was getting ready to make a wrap of deliciousness in the kitchen at work, my boss told me about a meeting i had to be in at 1.  sweet dude!  so i bagged the whole lunch plans and went for a quick and easy alternative.
by the time i left work at 4 o'clock i had already downed five contigos=120 oz of water.  guess i was thirsty?
meal 3: stir fry again! & 1 spice protein muffin w/ PB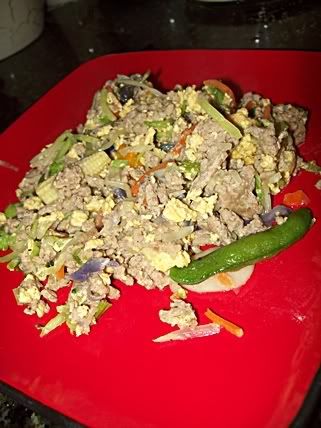 i had some of my stir fry and since the only carbs in there were veggies i decided to have a spice muffin afterward because i was feeling like something sweet.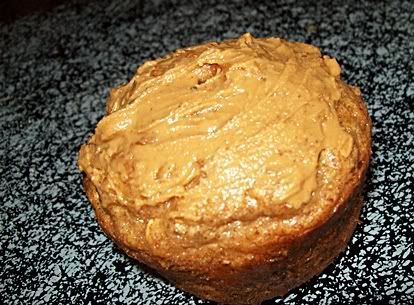 i am in dire need of a new camera.. this one i am using takes pathetic photos. sigh, cry.. good thing my birthday is coming up ;)
and guess what i did next?!?!?!
went to the gym, WEEEEEEEE!
i will post my moves post after this one.  but man, so stoked to work out, i can't even explain to you how fabulous it was.
after the gym i pounded my sixth contigo putting my water at 144 oz for the day.. plus a couple sips at the gym.
i went on a trip to target after the gym (i may or may not be addicted to shopping…) and then went home and made
meal 4: black bean & spinach scramble and a braeburn apple @ 8:00 PM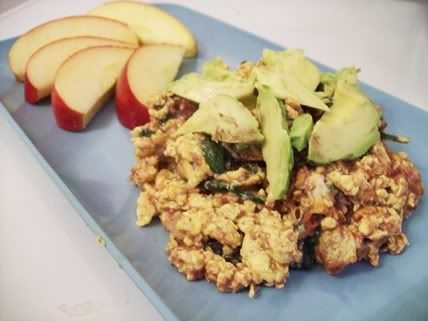 i read this post on danica's daily today and it inspired me to make this scramble.  thanks for the idea danica!  i forgot how much i love TJ's black bean dip and i had actually never put it in eggs until today.  genius! it included:
3/4 cup egg beaters
handful of spinach
chopped white onion
1 wedge laughing cow light cheese
2 T TJ's spicy black bean dip
S & P
sliced avocado
cholula
along with an apple for my carb.. delicious dinner, for sure :D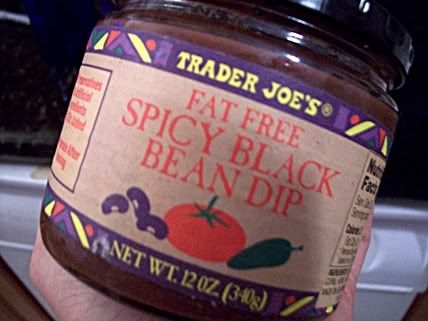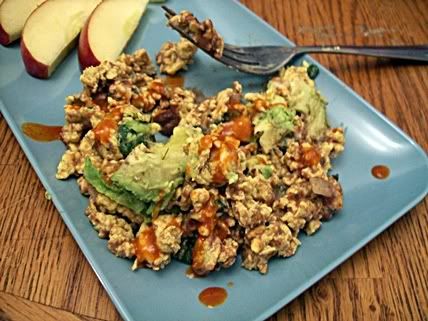 now i am typing this.. and wondering how i am so satisfied food-wise even though i have only had 4 meals today.  i guess i was so busy i didn't notice, but usually my stomach growls every 3 hours like clockwork and today i had to make myself eat, i was not hungry.  i have a feeling that it has to do with the lack of working out for the 4 days prior to today.. i could be right i could be wrong.
oh as far as supps for the day go (i need to get better at being consistent with my supps!) i had:
fish oil caps in the AM
multiV in the AM
dynaburn in the AM
thermoCLA pre workout
i am going to order some betagen and some greens supplements off allstarhealth.com as soon as i get $paid$
well i am beat, and still need to post my workout from today, so i guess i will keep the rambling to a minimum (weird, right?) we will see if i end up with a meal 5.. i might pass out before i am hungry again!
check ya later alligators.