hi blog world, i have had a headache for about two days now.  i have decided it is from my feet hurting, not working out, and sitting around WAY too long.
oh, and i am sure the eating last night had something to do with it.  haha… ummmm..
so i went to costco, why do they always have those cute little old ladies handing out free samples?  what is with that?  i managed to keep it to a minimum: a little spaghetti, a square of frozen yogurt, a ravioli and a square of ham.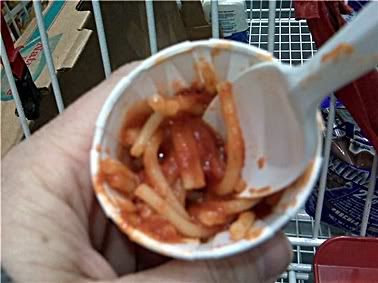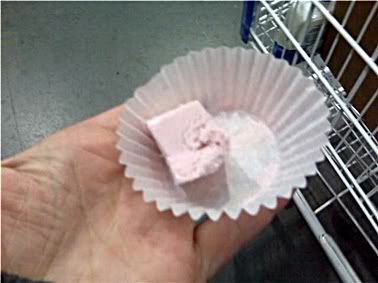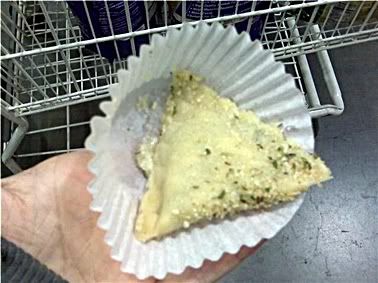 BUT those few cheats were well worth the goods i picked up all for $150! :
EAS chocolate triple combo protein powder (27 g protein & 140 cal per scoop)
EAS vanilla triple combo protein powder (same stats as chocolate)
huge bag of stir fry veggies – frozen
huge bag of individually wrapped servings of frozen edamame (150 cals, 10.5g carb and 12g protein per serving)
gigantor container of ground flax with 4g fiber per serving, i will be using it in place of fiber sure for awhile
6 bath towels
48# bag of iams dog food (can't forget the kids need to eat too!)
18 omega 3 eggs
6 cartons of egg whites
i freaking love costco!
so then it was time for the dinner/soccer game even though i had a pounding headache from walking around costco – oh and we went to the mall so i could get an invisishield on my new blackberry.  marshall said we could stay home, bless his heart, but i knew he had been looking forward to the game so i sucked it up.
we went to dasks…one of the best greek cuisine restaurants in the SLC.  now for a little TMI, i yakked in the bathroom before i even ate.. um that was not so rad.  not sure why i was feeling so sick.  marshall told me i have the swine flu.. ha NOT funny.
anyway, i got a chicken gyro with rice and fries, this was my plate before i ate (sorry, blackberry photos galore in this post):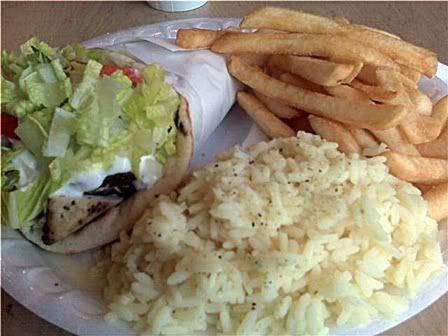 and after i pecked at the food a little this was it after, the rice was about the only thing that tasted pretty OK: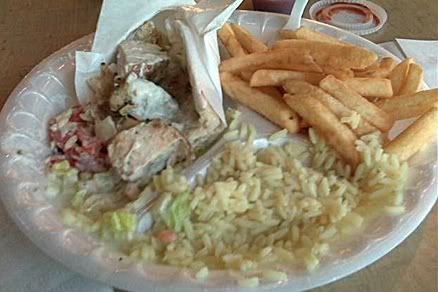 bummer, did not even enjoy my free meal.  oh well, what can ya do?  so we peaced to the soccer game where it was freeeeezing and since my feet are having issues i can only wear flip flops.. so marshall packed me around on his back and got me a hot coffee (not photographed) and babied me like the baby i am.  it was a good game, real (SLC's soccer team) scored 6 goals in the second half winning with a final score of 6 & 0.  can't say the same for the jazz vs. the lakers but that is a whole different sport…
so if there is one thing i could eat for the rest of my life it would be ice cream. i love ice cream almost as much as i love dogs, and that is saying a whole bunch.  so of course marshall suggests we hit up cold stone!  he would. i couldn't say no….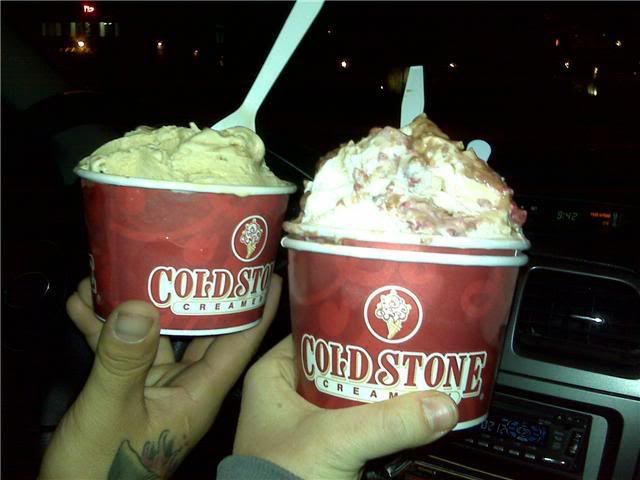 he got the coffee lover's and i got the banana split and we shared the two.. and no, they were not polished off..still have ice cream in my freezer actually. i should throw it away so i dont get any ideas.. they were HUGE (due to the fact that marshall said.. "hey, the big size is only a few cents more, may as well!") but yummmm i love me some ice cream!
i ended the night with some tylenol PMs and bobby flay throwdown on the tube.  i adore the food network & the game show network, call me lame, i don't care!  oh i did get my gallon of agua in, by the way.
so here it is sunday, the first sunday since my ski resort has been closed!  weird to not get up and go riding, especially since it was snowing again.  seriously, only in SLC is it 80 degrees one day and snowing the next.  give me some sunshine, please mother nature!!
rolled out of bed around eleven, yeah i sleep in as much as i can whenever i can, so sue me.
had some java with a dog next to me & a plethora of pillsss: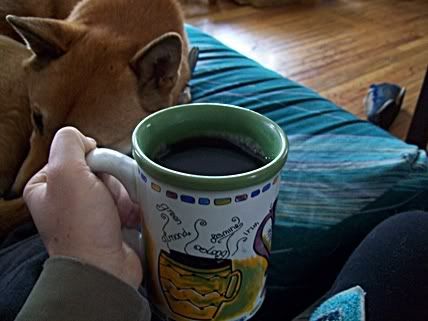 and then of course marshall wanted to go to millcreek cafe & eggworks, he has an addiction to their smothered breakfast burritos.  so i told him i would join him and had
brunch: egg white omelet with spinach, mushrooms & onions + fruit cupand more coffee @ 1:30 PM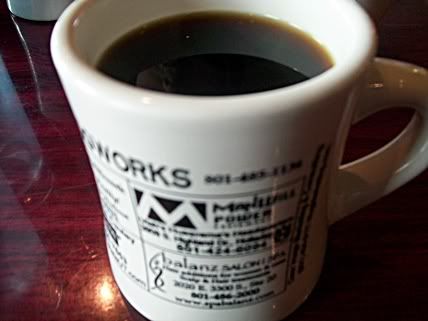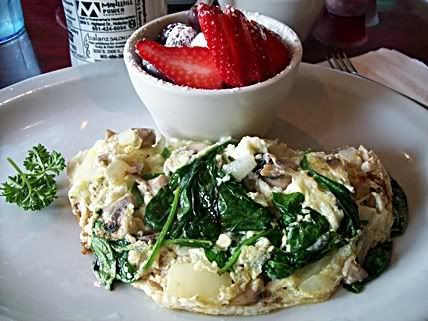 then we went to see marshall's mom because she had some crazy surgery on her mouth, so we took her a jamba juice.. i love those things but after reading the nutrition info i have not had one since.  i used to get the 24 oz peach perfection.. um check this out:
eighty four carbs?!?!?! good god batman!
yeah, no more jambas for janetha.  if you really want a shock check out the peanut butter moo'd stats, they may possibly make you ill.  if i am going to consume gross amounts of unnecessary carbs, you better believe it is going to be in ice cream form, not fruit smoothie nonsense.
so enough about that, on the drive home i munched on a couple things to try to see if that would help my head..
random car food: babybel cheese + raw almonds @ 4:00 PM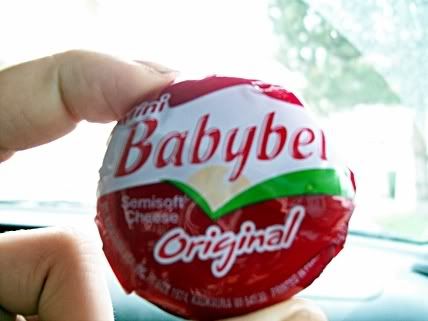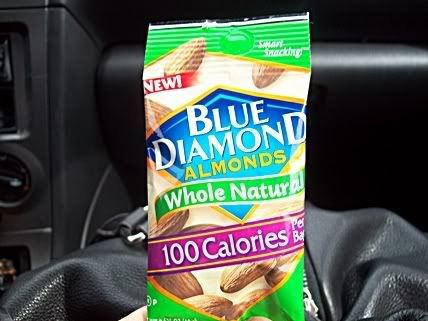 didn't help.  go figure.  i got home and took a nap to try to shake the headache, no such luck.  so i decided to have a
snack: 2 fiber wasa crackers w/ lowfat cottage cheese and black pepper @ 6:00 PM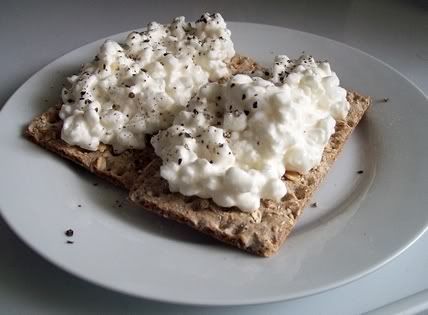 i have no idea what is wrong with my head, because it still hurts, so i took some more tylenol PM.  i can't take ibuprofen which usually helps my headaches because my doc said no ibuprofen for 2 weeks prior to my tonsillectomy. and i have no regular tylenol in the house, just the PM form.  so maybe i will doze off here in a minute, but that is not the worst thing that could happen i suppose.
sorry for the lame ramblings, half assed photos, and lack of variety or wit.  i am not 100% today, more later.. if i decide to make dinner! and if i don't die from being a slug for the past 4 days…