okay so good news–headache is GONE! woofreakingHOO!  maybe it was the tylenol or maybe it was the dinner or maybe it was the grocery store run.. that always relaxes me, am i a freak?
haha.. so yes, went to the grocrey store to get a couple items for the week, although i know i will be going back by tuesday or something.. good thing it is just across the street. i hope it warms up so i can walk there, oh and i hope my feet get better so i can walk anywhere ;)
grocery store run included:
braeburn apple
fuji apple
bunch'o'bananas
unsweetened vanilla almond breeze (UVAB)
don pancho high fiber low carb tortillas (love them)
kangaroo sandwich pockets in whole grain
3 containers of cottage cheese, both low fat and fat free (it was on sale for a buck!)
green onions (for dinner, see below)
broccoli slaw (for dinner also)
bag of baby carrots
strawberries mmmm
turkey pepperoni
fat free mayo (i don't know why i got it, i have never tried it but it was on sale so we will see if it gets used…)
hmmm i think that is all.  wow i sure wish costco carried UVAB.. i go through that stuff like a newborn goes through diapers.  oh i forgot to type black beans on my costco list! i got 8 cans of black beans.. it was like 4 bones for all 8 cans.. i sure do love mexican food so i will be putting the black beans + tortillas + egg beaters to use this week.  i saw this recipe for huevos rancheros that i want to whip up soon!
so then i made
dinner: sesame stir fry @ 9:00 PM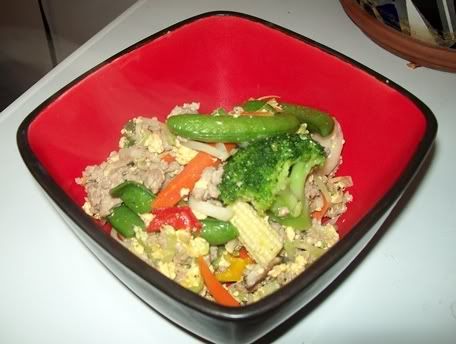 you can click here for the recipe.. mmmm i had been craving some asian-ish food, and since most asian food is high in sodium, this was as close as i could come without a salt overload.
the good part is i have 5 servings of stir fry left to eat this week.. hooray for bulk cooking + being prepared!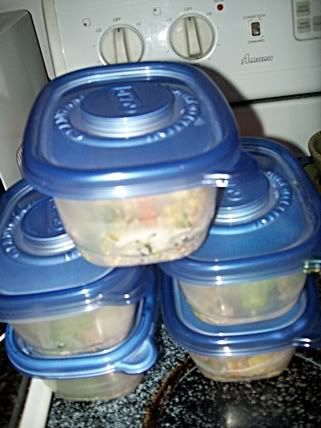 while cooking, i had a couple five handfuls of TJ's honey almond flax cereal.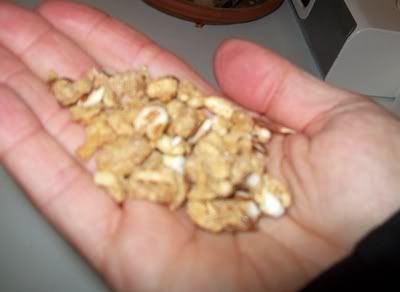 good thing i did not have a carb in my stir fry, because this definitely counts as my carb.  also it is safe to say it is a good thing i do not have access to a trader joe's due to the fact that i would consume boxes of this cereal weekly. yum it is so good! but no, in all reality, not having a TJ's in utah blows.. they should bring one here ASAP!!
anyway, just working on my last 24 ounce contigo in order to hit my gallon of water for the day.  i struggle with my water on the weekends for some reason.  it is much easier to drink lots and lots and lots of water when i am at work at my desk.
speaking for work, i have to wake up early tomorrow because mondays=7 AM weekly meeting, so i better bail.  just wanted to throw in the rest of the day's meals before i retired for the night.. this whole food blog business is pretty time consuming! but i really enjoy it so it is all worth it.
question: anyone know a good brand/model of camera that is not too ultra expensive that would be good for photographing food? i am in the market.. mine (which is not really mine at all, it is marshall's) just does not take super sweet photos like i would like it to.  input welcome!!
nite :)