happy saturday!  so i woke up hoping the foot fairy had come in the night and given me new feet.  not the case, but my right one is feeling a lot better and i think i will be able to walk on it soon.  the left one is still pretty gnar, but it is on the mend i am sure.
i l-o-v-e saturdays.  usually because it is free day and i eat whatever i want, but also because i get to sleep in until i wake up naturally.. no alarm clocks on saturdays!  now that snowboarding season is over i will have a lot more time to sleep in and do whatever.. i used to wake up and go riding but now the weekends are left for whatever comes up.
penelope's first intermediate puppy class was not until 11.  i did decide to not take a free day today, but i also am not going to eat as structured as usual.  i decided on clean eats all day up until my dinner out.
i woke up around nine and brewed some coffee, the only difference in my coffee on saturdays is i put some unsweetended vanilla almond breeze in there.  yummmm what a treat :)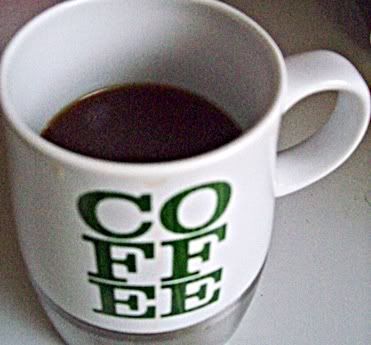 then i decided to make some breakfast:  this yummy omelet (click for recipe) & chopped strawberries + bananas @ 10:30 AM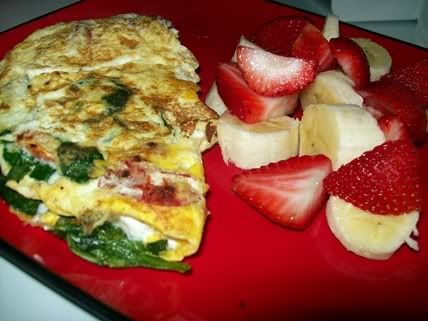 this omelet was super yum, i really wanted to have some toast with it for my carb, but i decided fruit was a better option.  i am trying to stick to unprocessed foods when i can..although that is not always.. but fruit is for sure a better choice than store-bought bread.
class was amazing!  penelope did really well and remembered a lot of her training from the beginner class.
i got home a little after noon and my boyfriend invited me to join him and his kung fu class at evergreen.. an all vegan cafe which = lots of carby carb carbs and fattening sauces and basic deliciousness.. but i remembered that i can't exercise so i politely declined the invite and decided to chug some contigos instead.  around one thirty i was getting hungry so i decided to see what i could find…
lunch: protein shake & cereal.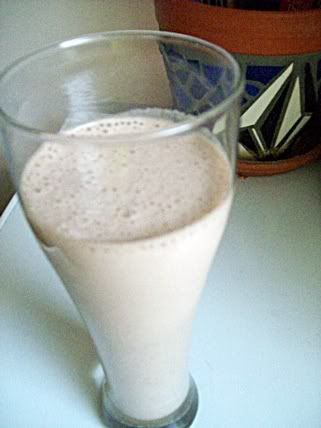 the shake was 1 scoop of protein powder, 4 ice cubes, 10 dark chocolate chips, 2/3 cup unsweetened vanilla almond breeze and a tablespoon of fit nutz peanut butter.  have i mentioned how much i adore my vitamix blender? it is true love.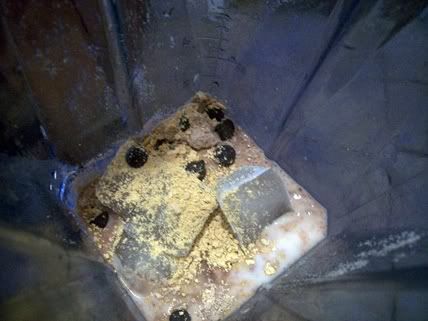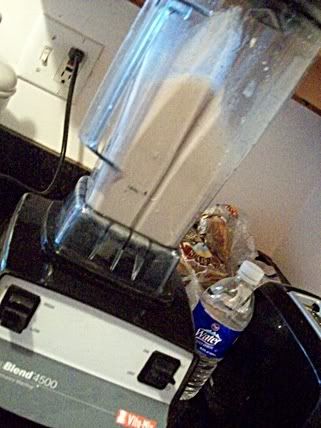 okay so i used up the last of my EAS chocolate 100% whey protein powder with this shake. oh no! i have to get to costco today because i use this stuff daily.  i do use a lot of protein powder but that is basically because i have been busy lazy lately and haven't had the time motivation to cook up a bunch of other protein options.  not to worry.. i will get back on the chicken wagon soon!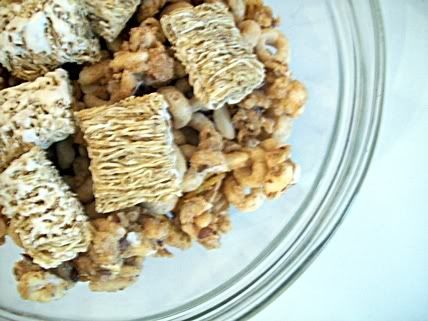 i did cave and enjoy a bowl of cereal for my carb.  i used up the last of my fruit at breakfast and for some reason a bowl of brown rice didnt seem to pair well with the chocolate shake..so i had a cereal mixture of kashi go lean + crispix + trader joe's honey almond flax + honey nut cheerios + a few frosted mini wheats for good measure with a splash of the last carton of my unsweetened vanilla almond breeze.  which i will refer to as UVAB from here on out because i type it so much! and i know it sounds like a lot of cereal but it was a total of 3/4 cup of cereal before the miniwheats.. i just like to mix a tiny bit of each kind, i'm silly like that.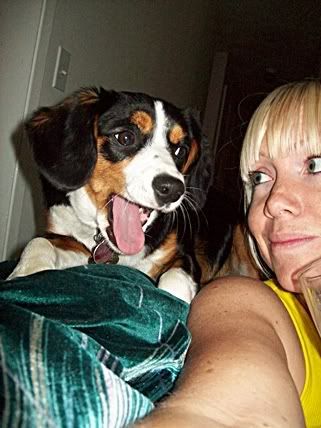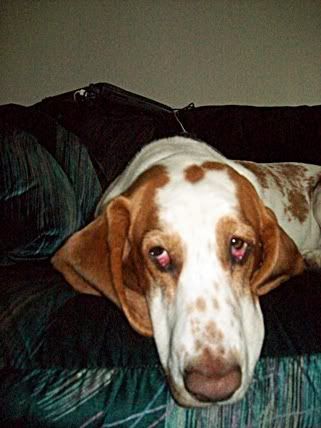 so now i am sitting here with penelope and randy, enjoying the rainy weather and waiting for the boyfriend to get here so we can make a run to costco.  then it is off to dask's for some greek cuisine and the soccer game, so i probably won't post again until tomorrow.
only 48 oz of water in me so far today, some fish oil caps and some thermoCLA.. and some lortab. i better get drinking and take my multiV!
i hope you are all enjoying your weekend! xo.