okay so my feet are worse today than they were yesterday. um, i didn't sign up for this.  the doctor did NOT specify to me that i would be unable to walk for any amount of time.  so i gave him a ring.. turns out, this inability to walk is pretty standard for the procedure i had done.. but nobody bothered to mention to me that i wouldnt be able to walk (OR WORK OUT) for a week!  that information would have been nice to know prior to the acid burning experience.. i would have postponed it to the tonsillectomy date.
okay, enough bitching i guess.  but as a direct result of this situation, i am not able to do my HIIT workouts and i am fairly certain my LBWO is going to be thrown out the window as well. i am going to do what i can exercise-wise.. but that is not much. feet are pretty important, ya know.
moving on.. last night i just had one more of those delicious spice protein muffins and called it a night.
this morning, for bfast, i had another spice muffin slathered with some earth balance natural PB w/ flax prior to coming to work.. i have a feeling these things are addicting..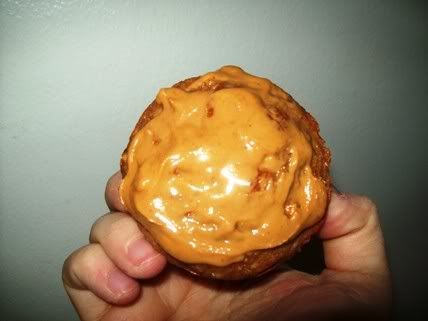 meal 1: protein oatmeal @ 8:45 AM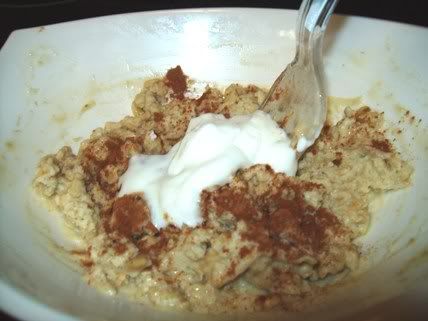 so today i did 1/3 cup oats, 1/3 cup water, 1 scoop whey protein.. microwaved on power 5 for 3 minutes and it came out alright.. i took advice from this banana cabana post and added a dollup of greek yogurt to the oatmeal along with the cinnamon.  it made it super creamy and delicious.  thanks to caroline for her fab recipe! next time i am going to try the overnight version.. it will take some experimenting.  i am not sure if i should add the protein powder in the night before or right before i eat it.  i will try both ways and report back :)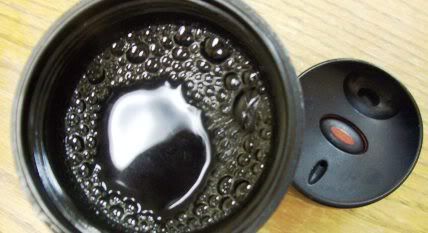 and coffee, obviously.
meal 2: sloppy joe mixture over salad @ 12:45 PM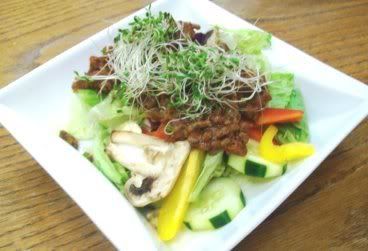 so i went four hours between meals here.  one reason was i can't freaking walk.  no really, i can't, i won't complain about it here but if you are curious about it you can click here to read up on the whole debacle.  anyway, i only wanted to walk downstairs to the kitchen/time clock at work once.. so i waited until it was time to bail (i had an appt for a bang trim & eyebrow wax at 1:15) and i threw together some leftovers.  i wasn't in the mood for a starchy carby bun so i threw the last of my sloppy joe mix on top of a green salad with romaine, cukes, yellow & orange peppers, mushrooms & sprouts.  it was actually super yum, tasted kind of like a bbq chicken salad except with beef instead of chicken, and there was no need for dressing.  score!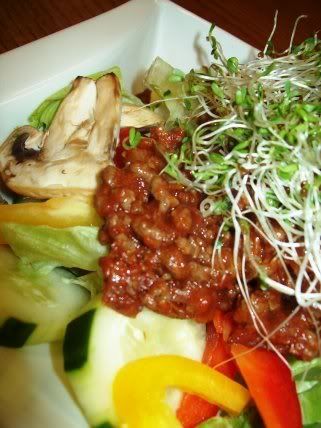 after the sesh at the salon i basically could not manage to get around any longer and decided to go home instead of back to work.  ive been sitting on this stupid couch ever since.  my lovely mom went and got me some pain meds and bandages and now i am sitting here rotting my brain with the TV and going insane from looking at the internet too long.   did come across a 30 minute meals episode where rachel ray made some great things that i will be trying out on free day:  love birds (chicken in pastry puff), seafood pasta with sherry tomato cream sauce, and a hearts of romaine, palm and artichoke salad with citrus dijon dressing. yuuuum.  but yeah, i have  cabin fever, i wish i could exercise.  it is giving me a headache and anxiety because i cannot do anything, yeah i am weird.  most people might be stoked on laying around on a couch eating lortabs all weekend.  i, however, am not.  blah.
meal 3:  1 protein muffin w/ PB, 1 spoonful of LF cottage cheese, chocolate whey protein shake, a banana @ 4 PM.
in four separate photos, mind you.
one spoonful of this and then i realized i was in the mood for sweet over salty so i put the CC away.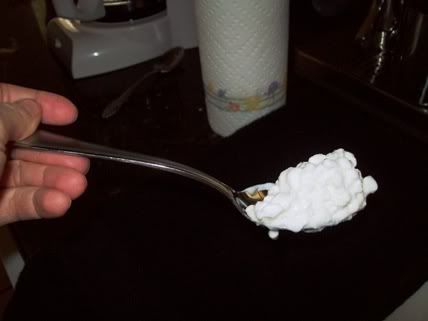 the shake was with 1 scoop 100% whey chocolate EAS powder, 2/3 cup unsweetened vanilla almond breeze, some fit nutz PB and some ice.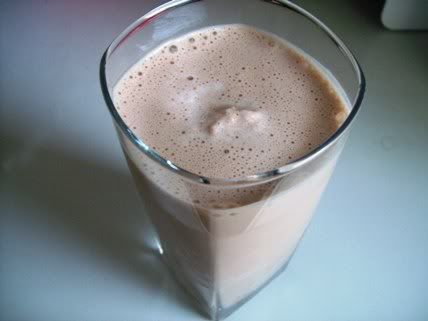 yum, banana.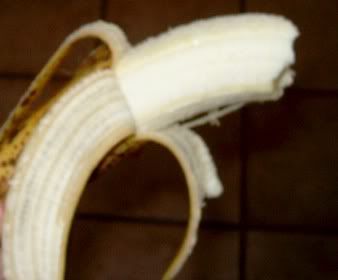 same photo as this morning, as i did not take another one this time. you get the idea. crap i am already addddicted to these.!.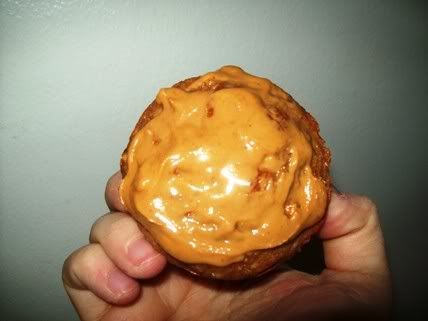 thus far, i have had 4 contigos which is 96 oz of water, and i have 2 full ones sitting here ready to drink.  it just sucks to walk to the bathroom so i am trying to pace myself. ugh.
okay well i am going to go ahead and post this now even though the day is not over and i have more meals to eat, but i am so bored so i am sure i will have plenty of time for another post for the rest of the day later on.  until then, signing off.