yep you heard it here first, cherry cheesecake day. and while i LOVE to cook and bake, i do not love the calories that come with it. but that doesn't stop me from baking and cooking for other people! my friends, boyfriend and coworkers like it too.
so as the title goes, today is national cherry cheesecake day. i whipped a batch of mini cheesecakes up last night and brought them into work today. you can click HERE for the recipe.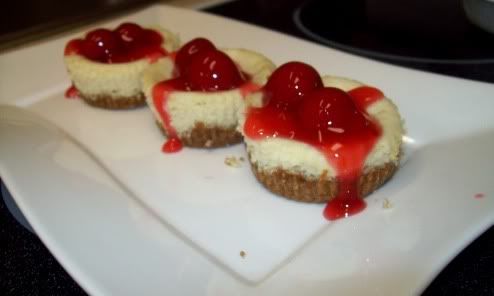 so while the people i work with enjoyed some sweet treats this morning, i had my go-to breakfast.
meal 1: protein oatmeal @ 9:00 AM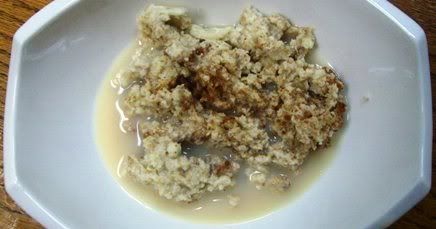 so as i mentioned before i am trying to make the oatmeal fabulous with the 100% whey powder like it was with the mixed protein powder. this time i tried cooking the oats halfway and then stirring in the powder and cooking for a minute longer, but the consistency was too slimy for me. so i added some cinnamon and some 8th continent plain light soymilk and ate it anyway. i think i will have to make a trip to costco and buy the mixed powder. my morning coffee is not pictured here, but i had it. black as night like always.
meal 2: sloppy joe & salad @ 12:00 NOON.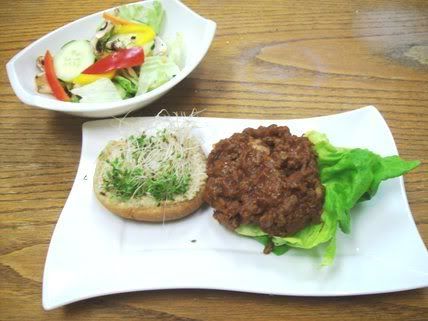 ah yum leftovers! i love leftovers, they require little effort. and since i usually only cook for myself, i find myself with lots of leftovers.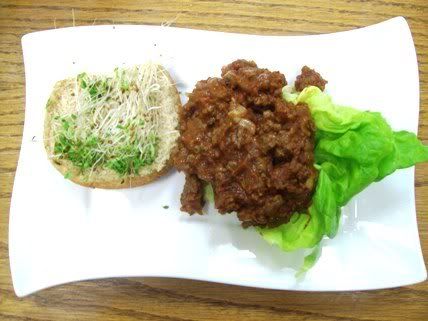 today i added some sprouts to my sloppy joe and i used some wishbone spritzer dressing for my salad.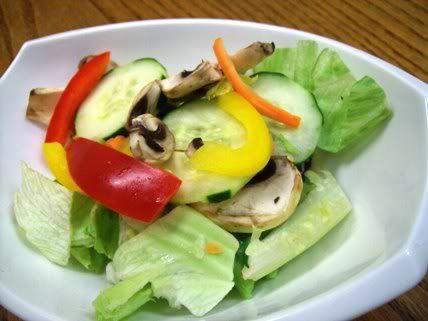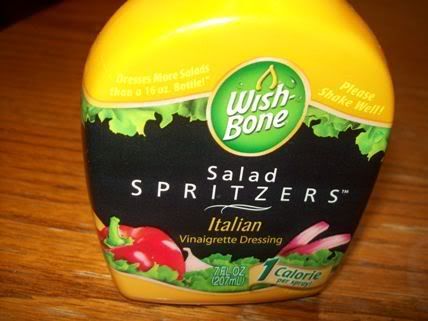 oh! i just barely remembered that i had a calcium chew and one strawberry this morning on my way out the door. i had been up since 7:30 but did not have time for breakfast until 9 and i was basically starving, so i had these two guys to tide me over at about 8:30 AM
: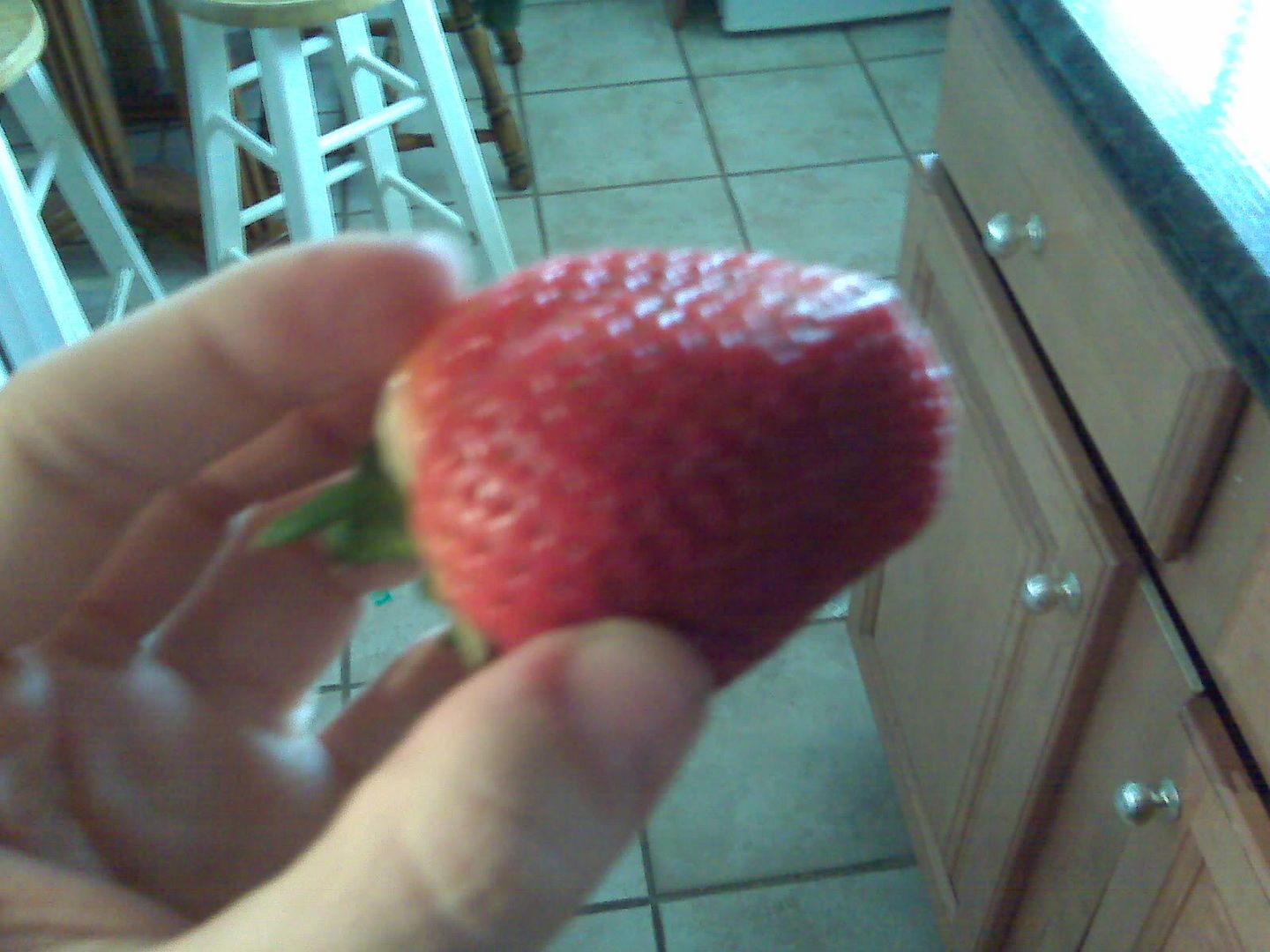 i am surprised i remembered to take the photos, good thing for my blackberry eh?
meal 3: random things from the work fridge @ 3:30 PM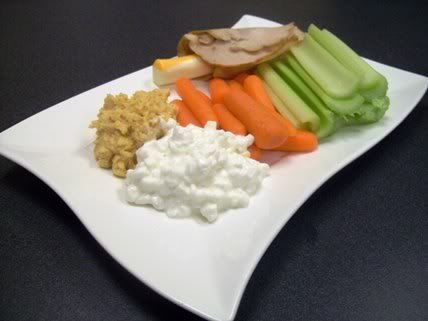 so i went downstairs not feeling in the sweet mood like my usual afternoon filled with greek yogurt and granola. odd, i know. so i threw together some stuff, probably a little light on the carbs but i am not beating myself up for it, the bun i had at lunch probably put me over my limit for meal 2 anyways.
here is what i had:
1/4 cup fat free cottage cheese
3 TB roasted red pepper hummus
handful of baby carrots
handful of celery sticks
1 cow pals mixed string cheese
3 small slices of deli turkey
not too shabby, it was good and held me over for the next two hours at the office.
well as it turned out, the pain in my feet won over a trip to the gym and i ended up taking the day off. not stoked on that.  i wonder what my feet will feel like tomorrow? i hope i can walk. i hope i can run.  i really hate missing my work outs and when i get my tonsils out on cinco de mayo i know i will be missing a bunch of work outs AND eating bad. ugh ugh ugh!
so i made a trip to GNC instead and got some thermoCLA. reupped for the next month or so.  i am thinking about buying some EAS betagen soon.  like tomorrow i guess. i want to get some type of greens too, a guy i know on tracker really swears by them and i think i will give them a shot, even though i have heard they taste horrid.  must be good for you, right?
so meal 4 ended up coming later than necessary because of an unexpected (long) visit from a neighbor lady.. trying to get me to be interested in the ward around my house i am sure.. she was super nice though. and her name was sue which is also my mom's name and anyone named sue has gotta be rad, right? so we had a long talk, ronin (roomie's dog) pulled a dozen eggs from the counter to the floor (crap) i ran into the kitchen (bad idea, the feet HURT) and then fast forward to meal 4…
meal 4: leftover steak pinwheels & a bowl of cereal @ 7:15 PM
these steak pinwheels were just as good the second time around, just not as pretty as fresh off the grill.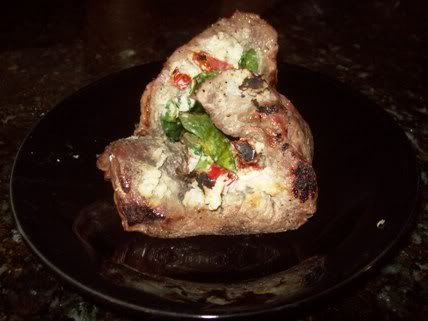 i didn't have a carb to eat with them and hadnt fulfilled my sweet tooth yet today so i decided to indulge in one of my very favorite foods: cereal. i am a chronic cereal mixer.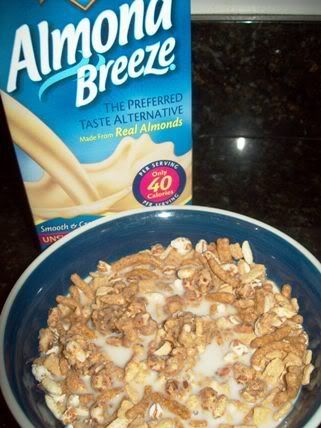 i love to switch it up. i also know that if i have one bowl i will want five.. but i was feeling risky and decided to have a bowl anyway.  i had kashi go lean mixed with trader joe's honey almond flax something or other that my lovely sister brought me back from cali. i so wish we had TJs here! i splashed it with my favorite: unsweetened vanilla almond breeze.
for meal 5 i didnt wait three hours, because i was so anxious to try my baking!
meal 5: two protein muffins – spice flavor @ 9 PM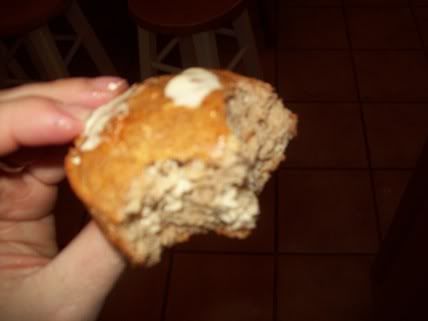 they are sooo good, and i cannot wait to try out other variations!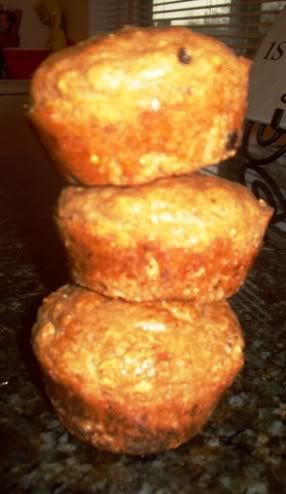 thanks to my tracker friend kimberley for the killer recipe.  the stats on these are super great.  77 cals, 8g carb, 8g protein, 1g fat. so nice! and so yum! i spritzed some i cant believe its not butter spray on them.. but i usually try to avoid that stuff.  oops.
i don't know what my problem is with water today, usually i get my gallon in no prob.  maybe it was because i could barely walk and dd not want to walk back and forth to the drinking fountain at work?! and maybe because i didn't work out. either way, i got a cool 128 oz in so i made my gallon :) and i will probably have a bit more before bed.
well here it is a little after nine, i may or may not have a meal 6.  it is up in the air.  i might have a shake or some more of those fabulous muffins, but i will tack that on to tomorrow's post! hooray for friday tomorrow!!!!