i really need to get my butt to the grocery store.  but i must admit, having to make do with what i have at work and at home already has caused two things: creativity and saved $$$! so i can't complain. here are the meals for tuesday, day 10, 4/21/09!
meal 1: protein oatmeal @ 9 AM.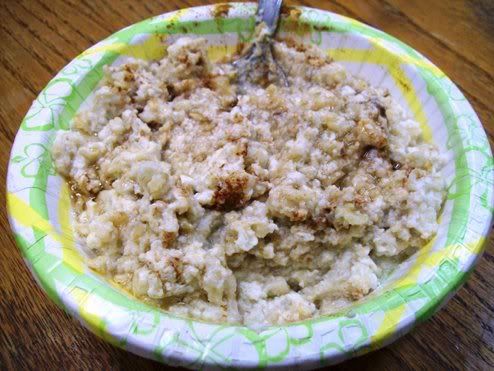 i recently switched from EAS vanilla protein powder blend (it was a soy/whey/casein blend i believe) to 100% whey.  the only reason i switched was because my mom had some 100% whey she gave me.. and i love free :) but i have noticed that my regular oatmeal cooking method does not work as well with this protein powder, so i am experimenting with different amounts of water.  if i can't perfect the method, i will go buy some of the protein powder blend for my oatmeal and i will use the 100% whey for shakes and baking and whatnot.  until then.. let the experimenting continue.. my oatmeal turned out too watery today so i nuked it on full power for 2 more minutes and i had an overflow incident!  oh well, it still tasted decent. put in some cinnamon and log cabin sugar free syrup today.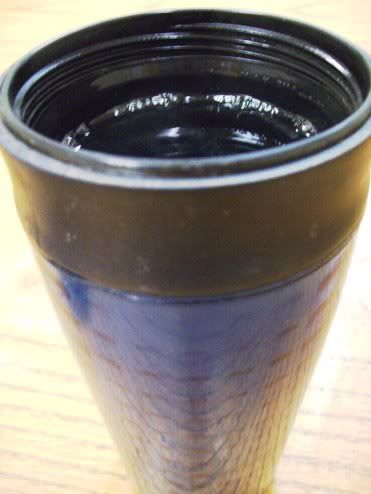 and my coffee, of course.
meal 2: tuna wrap @ noon
this was 1 packet of tuna which has 20g protein, 0g carb, 1.5g fat and 100 calories.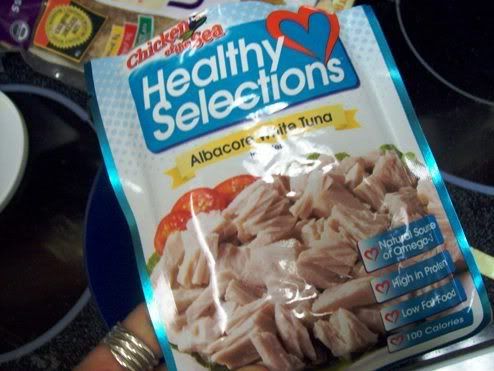 i love these pouches, what rad statistics!  and i mixed the tuna with 1/4 cup fat free cottage cheese.  i spread 1 laughing cow light wedge on a flourless tortilla..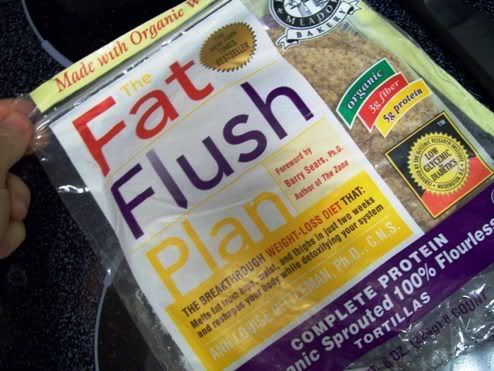 these tortillas are sprouted grain and are considered a complete protein, i picked them up at whole foods.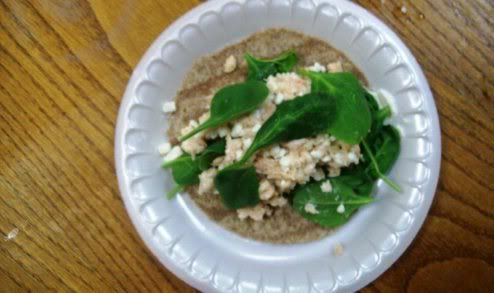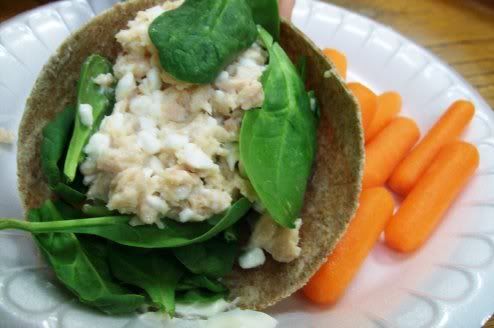 pretty tasty and healthy!  i laid some spinach down and then put the tuna on top.  i also had some baby carrots.
meal 3: greek yogurt & granola @ 3:30 PM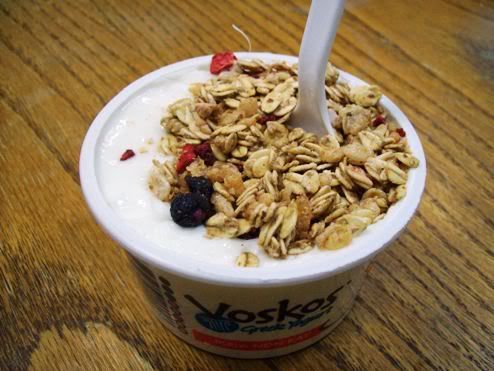 okay so i ate a little late on meal 3 and i was getting really hungry, but i was ultra busy at work. i hate it when that happens.  it is funny how my body is automatically hungry every 3 hours!  i had my go to greek yogurt and granola today, it was my last container of yogurt which means a trip to whole foods!
*insert workout here*
*insert trip to whole foods & smith's marketplace here!!!*
meal 4: steak pinwheels & grilled veggies @ 7:45 PM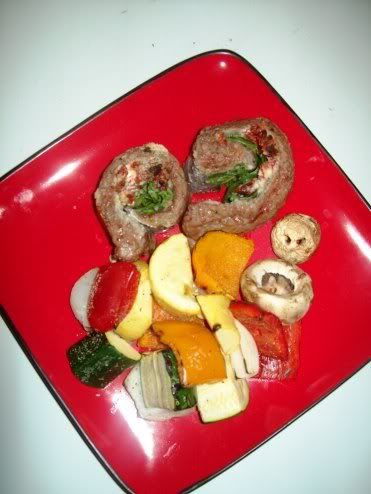 yesss i got to the grocery store after the gym! holler. check out my recipe for these rounds of deliciousness by clicking HERE.  i grilled some veggie skewers along side the pinwheels and it made a delicious meal with leftovers for tomorrow!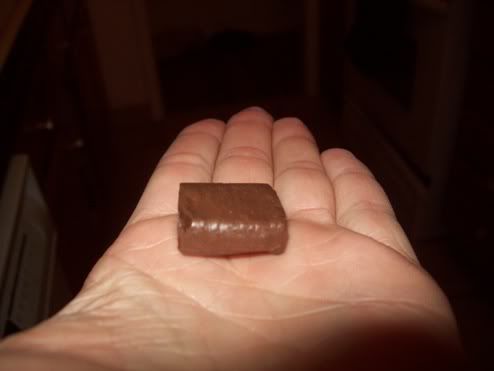 and a calcium chew after dinner.
meal 5: chocolate whey protein shake @ 10:45 PM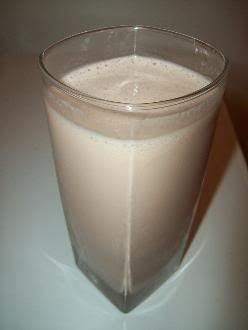 just 1 scoop of 100% whey protein powder – EAS chocolate, 4 ice cubes and 8 oz unsweetened vanilla almond breeze. hit the spot!
i drank the equivalent of six contigos today.. which is 144 ounces of water. i also had my centrum multivitamin and thermoCLA (twice-morning and pre workout).
hasta luego!